January 2023 Release Notes¶
Aunalytics is excited to announce the first release of 2023 release to our clients. This release will provide clients with model and site enhancement information along with any fixes to existing functionality we have included.
Aunsight¶
Small Feature Enhancements¶
A progress bar has been added to the Jobs General section. Progress will display until it completes, fails or is killed. A hover tip will show relative percentage complete.

Workflow component Editor screens will now have port title and description making it clearer to users which edit is being done.

Upon saving a workflow with incomplete required fields, a warning icon will appear on the component missing required inputs.

Dataflow Builder Expression Builder now shows a dot (.) for spaces making it easier to identify unintended spaces.
Bug Fixes¶
| Description | Client Request ID |
| --- | --- |
| Dataflow name and description are now populating for version 1 under Versions tab. | |
| Name changes throughout Aunsight (Datamarts, Dataflows, Queries, Models, & Sightglass App) will respectively update the name in the list. | |
| When going directly to a Query via a URL, the Query will now be selected in the list. | |
| Changed resource type on the Create Dynamic Output Workflow Component to Dataset Storage. | |
| Users with View Project and View Metadata policies are now able to see Dataset versions and the differences. | |
| Job trace section will display unhandled errors instead of crashing the page. | |
| Fix to allow users to add Manage AuQL Script permission when sharing a Script outside of the owning context. | T20211118.0397 |
Aunsight Golden Record¶
Domain Cloning, Merging, & Change Tracking¶
AuGR's January release introduces the functionality to clone a Domain from a single instance and merge changes back into the same Domain for that specific tenant.
The Clone Domain is an exact duplicate of the Original Domain. This functionality allows for changes to be made and tested in the clone, and once the Clone Domain has been verified and approved, it can be merged into the production (Original) version of the Domain.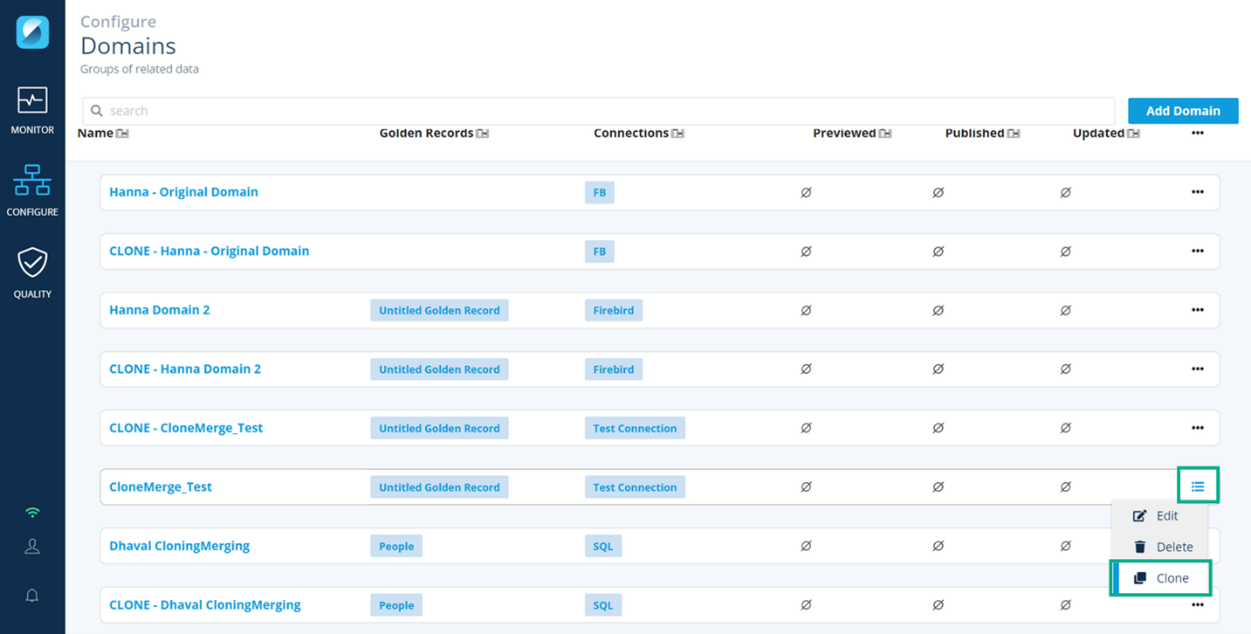 Coming with this functionality is a new Clone Domain Changes section under the Change tab on the Clone Domain. This is where the differences between the Clone Domain and current state of the Original Domain will be outlined and summarized.

To learn more about this new functionality, check out the AuGR user guide.
Small Feature Enhancements¶
Pause all preview jobs will be checked by default upon publish of a previewed domain, pausing all input, outputs, replications and transactional workflows for that domain's preview.
Bug Fixes¶
| Description | Client Request ID |
| --- | --- |
| Fixed a bug with the Return button on the Batch History screen. | |